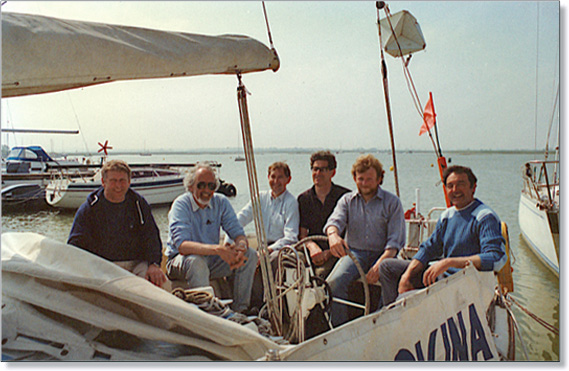 14 Apr

12 April 2020 – John Rumball remembers happier times on the high seas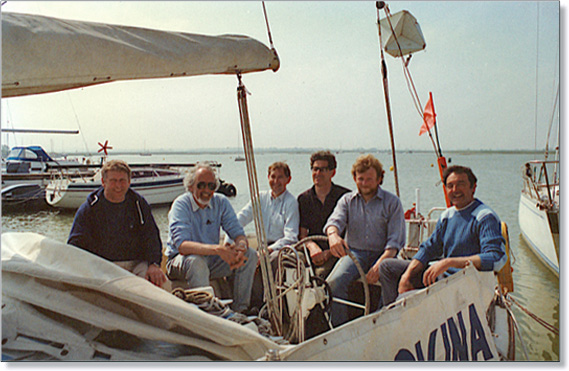 John has been sorting out his memory box, and came across this photograph, taken 'somewhere near Harwich: year forgotten' in the days when social proximity was not frowned upon.
Cecil Hughes has commented thus: 'You have brought back happy memories of sailing round the River Blackwater with our flotilla – usually three chartered yachts.We started around lunchtime on a Saturday at Malden, where we picked up the boats and refuelled them with a little diesel –and refuelled the crew with much alcohol. When the tide was right, we would cast off and the adventurous weekend got under way, usually arriving at Bradwell Marina in time to beat the tide and moor over night. Brian Ekers captained one, with Peter Bradbury and possibly George Perryman as crew. Colin Pulford took command of another ship, and took his bottle of gin aboard, but I forget who his crew were. The third boat, in the photo, was skippered by Terry Walls, who is second from the left, next to John Rumball (first left). Third man in is Ken Taylor, then Cecil Hughes, a non-HMSO man named Peter, then Kevin Gibbons far right. I have some photos of those trips, somewhere, if only I could find them!'
Brian Ekers adds: Reg, Having read all the above with much interest, I considered that it might be of further interest if I recorded the origin of the seafaring adventures. The first voyage took place in the autumn of 1963 when I chartered a 30ft offshore sailing yacht from Blackwater Yacht Charters, Maldon Essex. My first crew consisted of Bert Waller, Frank Grigson and Derek Lees. Pete Bradbury might have been on that first trip but he certainly joined by the second, with the same crew, during April 1964. After that, from autumn 1964 onwards. Bert Waller skippered his own boat, crewed by such stalwarts as Jack Palmer, Albert Hyde and Ron Bent (the start of many legendary adventures!). Walter Roberts joined my crew as a replacement for Bert. These twice yearly events continued for many years involving lots of other recruits (Cecil Hughes and Roy Plackett to name but two) but I retired after the spring trip in 1974, when I departed HMSO to join the Admiralty Hydrographic Department in Taunton, Somerset. We did have one last, nostalgic, voyage during the 1990's after my return from the MOD. This time on the Broads with a crew of notables, some listed above but will not name them for fear of being guilty of the 'sin of omission'. Brian.
Brian, Excellent recollection. Some happy memories indeed: even though I was not there, I know most of the people you mention. Which reminds me: John Straghan (ex Print, Belfast) sends the occasional note, and tells me that he is in fairly regular contact with Walter Roberts. Best wishes, Reg.
Gerry Aldus adds: Reg, I was amused to read your latest from John Rumball about the sailing trips. I was cabin boy on one in 1971 or 2; crew was Frank Grigson (Skipper), cook Ron Bent, Navigator and Safety Officer Jack Palmer (strictly no late night visits on deck for emergency pees without accompaniment).
The sailing trips were only one of a number of P and B traditions. I also attended a couple of mid-summer walks to The Berney Arms (organised by Peter Lince I think). These were well attended and a suitably decorated certificate was issued to those of us who found the way back to the cars.
There was also the autumn cross-channel trips to buy Christmas booze, of which I attended 3 or 4. These took us at various times as far as Holland, Ypres and the WWI battlefields, Lille for the Christmas market (chocolate nativity sets were a little pricy), Brussels, Bruges, St Malo and memorably Ghent where we were caught up in a general strike. Big Bill had a red army hat which meant that any shopkeeper still open thought we were a flying picket trying to force them to close – all we were doing was trying to find a chocolate shop open. The lady in the one we eventually found could not believe her luck as around 8 or 9 of us bought a kilo or more.
Happy days in good company. Gerry.
Hello Gerry. Happy memories, as you say. My position as onetime Drill Corporal in the Bec School Combined Cadet Force (Army) did not qualify me for those escapades on the high seas, but I have heard the tales –many told Private Fraser style (' A wild and lonely place, Aldborough, ye ken . . .').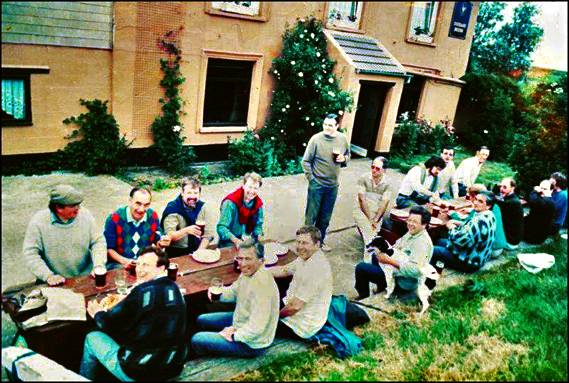 Couple of hazy photos of the Midsummer larks, courtesy of the late Sinclair Simpson's estate, may bring back more memories. Keep at it, Reg.
Brian Ekers adds: Reg. The recent nostalgia's concerning events past bring to mind other treasured memories such as:
(a) The Lord Nelson, Burnham Thorpe. For many years the venue for bi-annual singing revelries. Special request performances included singing at the invitation of Les and Dorothy Winter at their Golden Wedding party and entertaining a party of American businessmen on a cruise up the Thames.
(b) The annual Christmas sing-along which endured for 45 years, from 1973 to 2017, with a break of only 2 years around the Millennium whilst we searched for a final venue.
Many happy days! Brian.
Hello Brian, Happy days indeed.Here are some photos which give the flavour of those times added to HMSOldies for posterity. All the best,Reg.