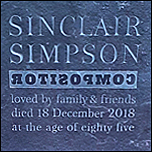 14 Jan

12 January 2021 – From Ann-Marie Simpson

Hi Reg,  I hope you and yours continue to be safe and well.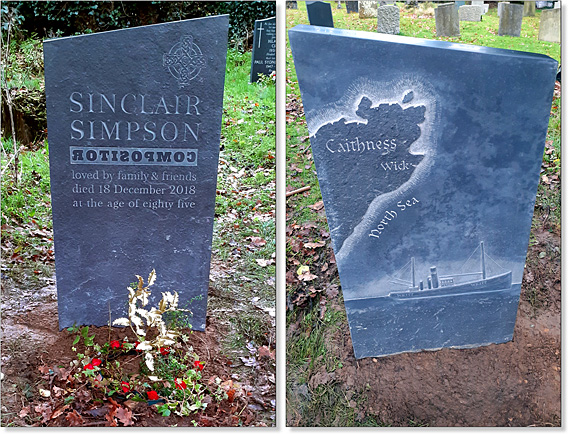 I'm not sure if it's normal to show memorial stones on the website but thought you might like to see Sinclair's as we've included reference to his printing days. The stonemason, Teucer Wilson  – who we discovered works in Caithness stone and is based near Aylsham – suggested we show 'Compositor' in the way Sinclair would have put it in the printing block (sorry if I'm using the wrong term for this but think you know what I mean!). The reverse of the stone marks how important his Wick heritage was to him.
The stone was erected in Brundall churchyard just before Christmas.
All best wishes, Ann-Marie.
Hello Ann-Marie, What an excellent memorial. Sinclair would be proud of you! And such an elegant design.  Well done Teucer Wilson. Coincidentally we are just back from Bowthorpe Cemetery, which is just down the road from us. It is a good, reflective place to take a walk for our daily exercise. Come the day, we will have to take a look in Brundall churchyard.
All well here, thank you, and I trust the same applies to you and yours.
Best wishes, Reg.