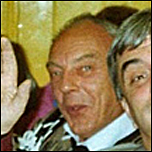 14 May

Paul Eugene Segolo 1939–2022

The Eastern Daily Press dated 7 May carried the news that Paul died on 18 April 2022.

Paul joined HMSO Print Division, Norwich, in January 1991, and was a cheerful companion both in the office and on those occasional sociable excursions to, for example, the Lord Nelson pub, Burnham Thorpe. The photograph shows Paul at one such event, accompanied by Dick Smith, Bill Robinson and Brian Lambirth.