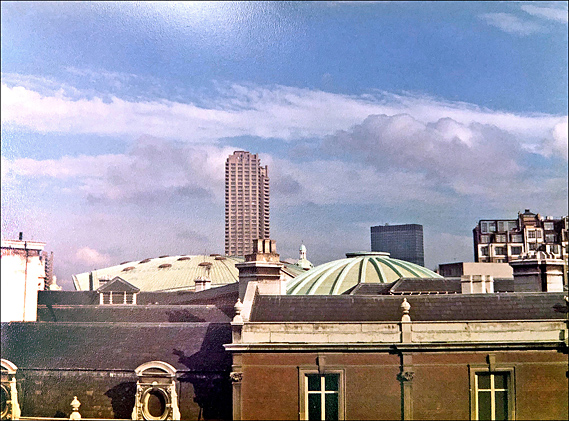 17 May

17 May 2022 – From Nodge Carnegie 

Dear Reg, The item about Atlantic House is fascinating. The first link brought instant rewards and prompted memories. Following the further links will need a longer "browse".

The photographs by Philip are a great reminder of how colourful (full of colour) that area was, particularly when the sun shone. The view towards Atlantic House, over the Viaduct, with the wide pavement is wonderful. In an odd way, it recalls for me some of those early post-war films (Hue and Cry and The Lavender Hill Mob in particular) which feature location-work in the area: wide pavements and little or no traffic. The sun seemed to shine (in monochrome) a lot in those films.

My time in Atlantic House was relatively short (February 1970 to July 1978) but allowed exploration of the area (random rather than organised) during a time of change. Visits to some of the nearby pubs were essential, whether The Rumbo in Old Bailey (for the jazz and the steak and chips lunches) or one of the pubs selling proper beer (such as The Bishop's Finger in Smithfield, which sold Shepherd Neame). One group of friends worked for a big insurance company in the City. Theirs was a new profession: systems analysts. It was clearly thirsty work. They often came westwards, to "check out" our local watering holes.

From early 1973 to Dispersal Day 1978, Gerry Watt and I worked as the Forms Design team. Our room, on E floor, overlooked Farringdon Road, Hart's Corner, the meat market, and – beyond – the continuing work on The Barbican.

These snap-shots are from February 1978 showing the Barbican towers looming in the distance and building work being done on the Victorian block across Charterhouse Street from Atlantic House and include the western corner of The Victoria pub. Lots of cranes and scaffolding, all in glowing sunshine.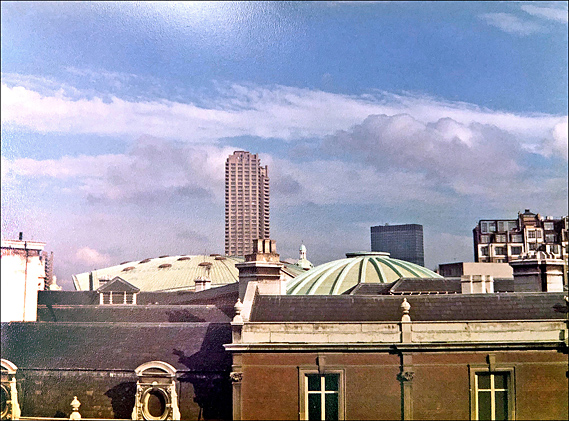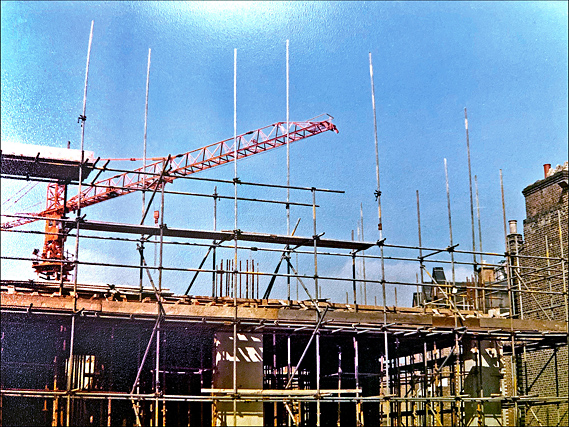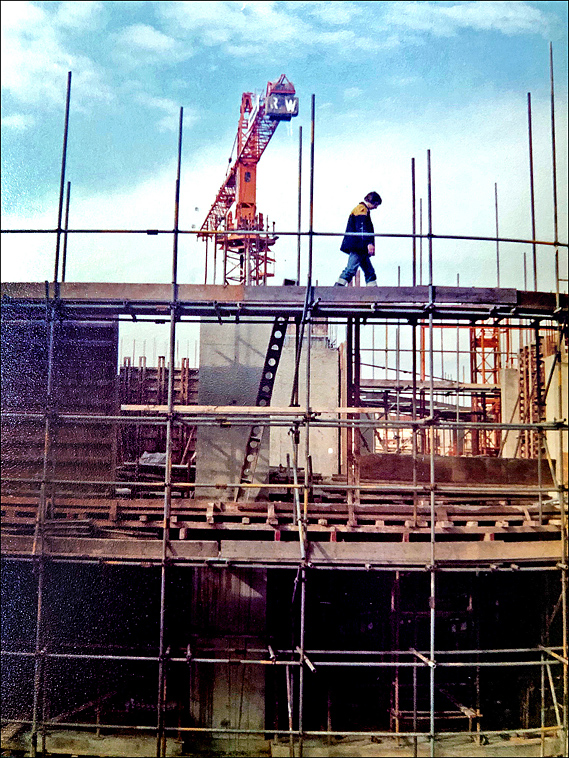 I'll not quote the late, great Steve Ward and say "Golden Days" but the sun did shine!
Best wishes and thanks again. Nodge.
Excellent to hear from you Nodge, and immediately to be taken back to The Good Times. The names! The places! And – especially – the pubs! If I went to the window of Room E44 I could just about see The Victoria before visiting, lunchtime, with Charlie Lloyd, Tommy Taylor, Gordon Stein, Johnny Muir and others. 
All the very best. Reg.