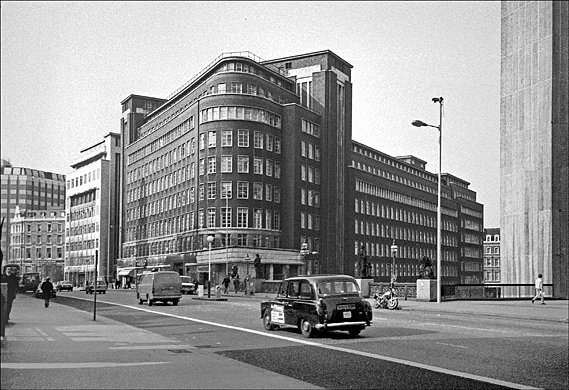 27 May

26 May 2022 – More Atlantic House photos

Hi Reg, Nodge's fine sunny photos taken from Atlantic House sent me searching for others and these came to hand – from March 1984, about the time the remnants of HMSO moved out to Nine Elms.

Philip Marriage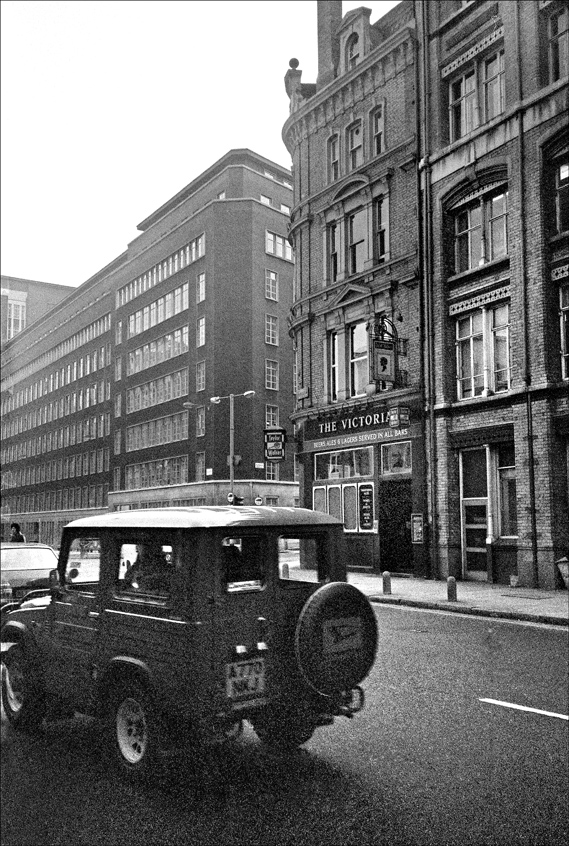 Farringdon Street at the junction with Charterhouse Street and The Victoria facing the back entrance (was it 'B door'?) to Atlantic House.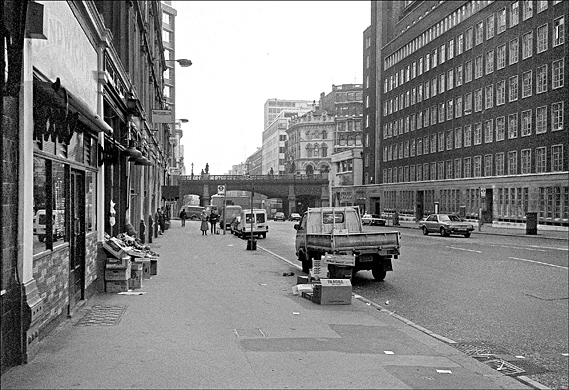 Farringdon Street just before Holborn Viaduct with Harts Sandwich Shop on the left, facing Atlantic House.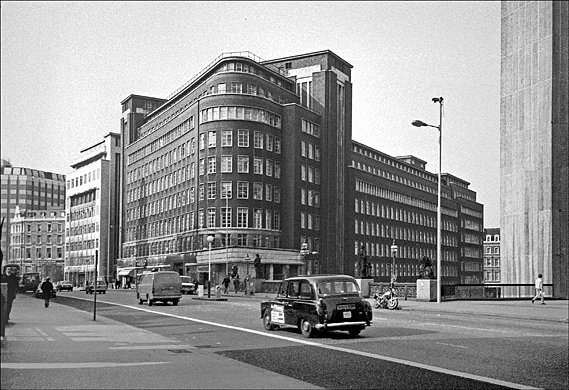 Atlantic House with its main entrance on Holborn Viaduct.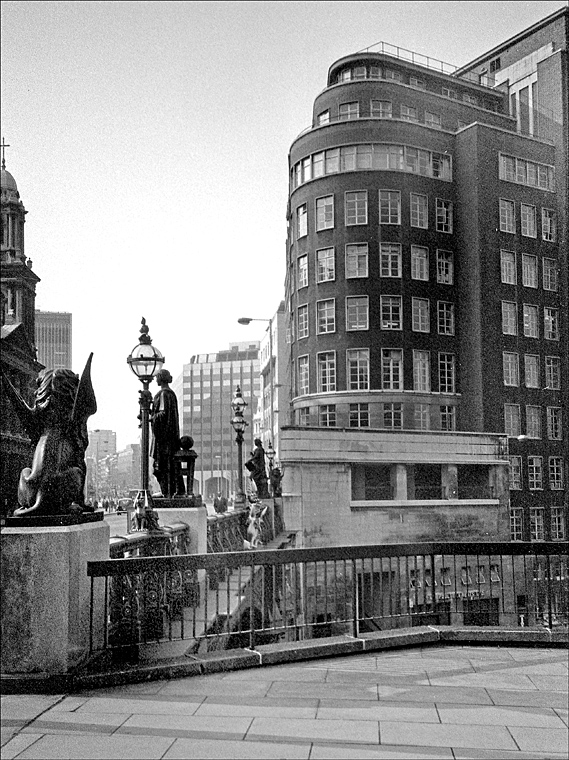 Atlantic House on Holborn Viaduct with the utilitarian staircase leading down to Farringdon Street,
now replaced with a pseudo replica 'Pavilion' to match those opposite, destroyed by bombing in WW2.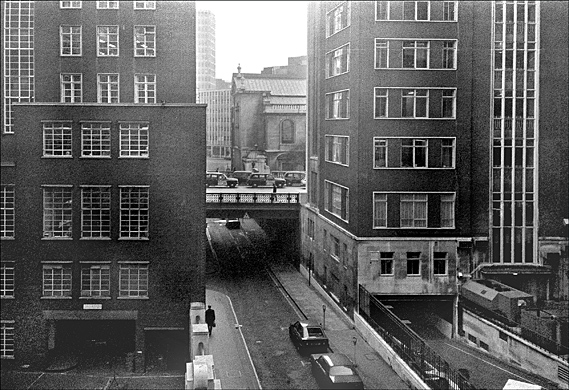 View from Atlantic House of Shoe Lane and the Viaduct with the corner of St Andrew Holborn just visible beyond.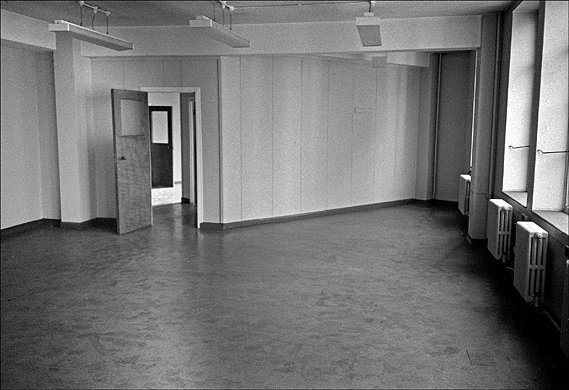 An empty corner of Room E86 once occupied by the Graphic Design Studio.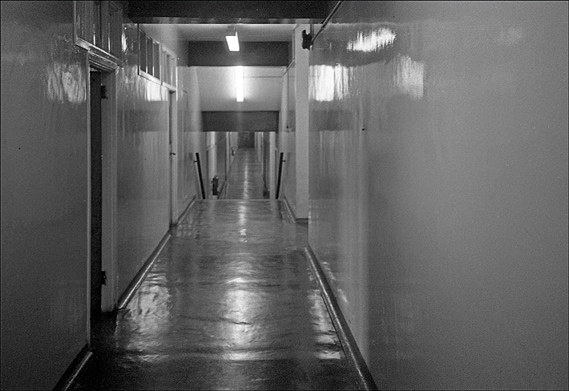 Empty Atlantic House corridor on E floor  – I can smell the lino-cleaner!
The steps must have presented quite a logistical challenge to the twice-daily tea-trolly.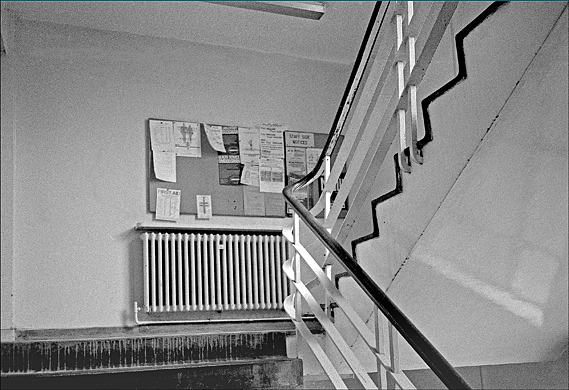 Landing of E Floor and the Notice Boards still displaying Staff Side Notices.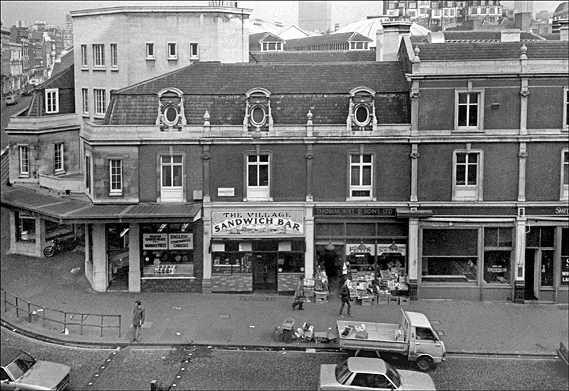 Looking down from E Floor to 'Harts Corner' and the Sandwich Bar on Farringdon Street.
Harts Corner was where they auctioned off poultry each Christmas Eve and
I recall Alan Stephens struggling to carry home a prize turkey.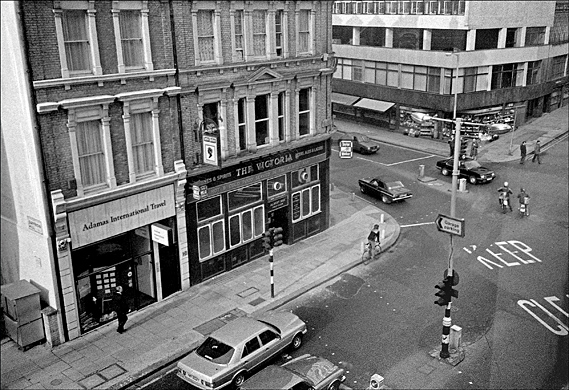 Looking down from E Floor to The Victoria at the junction of Charterhouse Street and Farringdon Street
with the steps down to Saffron Hill just visible on the extreme left.
Philip, Those photos immediately transport me to the mid 1960s, Supplies Division, when HV Roe was Director, PJ George Deputy, and DN Roberts Assistant Director – lunchtimes with Charlie Lloyd, Tommy Taylor, Gordon Stein, Johnny Muir and many others in The Victoria: a pub which operated 'Market Hours' thus enabling George Milne to sink a quick one before starting at 0835 hours. Just down the road were the Farringdon Book Barrows, and over Holborn Square was the Box of Delights that was Fleet Street when every other building was a thriving newspaper – not, as now, a thriving coffee bar. And I can see Shirley Gooljar climbing those stairs in her high heels while Bob Courteen is coming down them in his carpet slippers. Reg.
Robert Stutely adds: Mention of the tea-trolly negotiating the steps reminds me of the return of the overnight computer run from Norwich. If we heard a loud thud of the trolly returning the transit boxes, we knew that someone's program had gone into a loop and produced masses of 'wet playtime paper' as it became known – perfectly good paper, but useless for re-use by the computer staff, which would find its way to a primary school for children to use for drawing when it was too wet to go out to play. By the way, I believe the tea-trolly may have used the lift at the front of the building but I am not suggesting you change your comment. The thought of the tea being swirled around and the bacon rolls jumping around as the trolly bumped down each step is too good to miss.
Philip Marriage adds: Thanks Robert. I would expect the tea lady to go down the corridor as far as the steps and then retreat to find a lift to the next level – but who knows (Reg probably!). I don't recall the trolly lady actually coming into our room so maybe the trolly was in the landing near the lifts and rang a bell or something? I do remember our CO "Bobbie" Westaway making tea in the studio so maybe we stopped using the trolly at some point. I've just found this 1977 photo (from Nodge?) showing the tea-making kit behind 'Bobbie".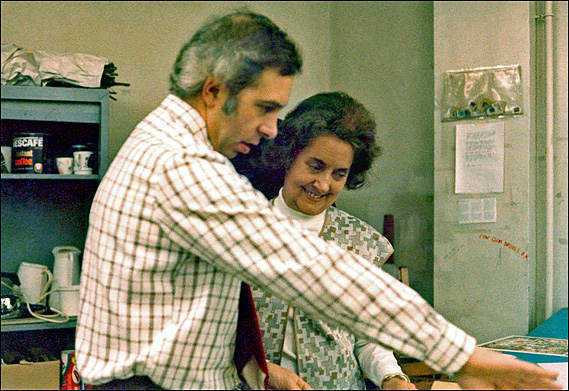 Lovely photo, very much of its time. Wish I could read the notices etc. on the wall.You are right as regards the trolley being moved to the steps, then back to the nearest lift. No rooms that I worked in were invaded for trolley service: we heard the word 'Trolley' boomed by the female version of RSM Brittain, and out we went to form an orderly queue. Even HEOs. For some of we COs it was an opportunity to speak, albeit briefly, to those who were otherwise unapproachable. OK, Helen Smith, picture below, with John Beagle in 1966. Some tea made by Paperkeepers etc. in Cornwall House, but not in Atlantic House Supplies when I was there. I do remember an HTO who filled his water jug with Vodka, but that's another story. Reg.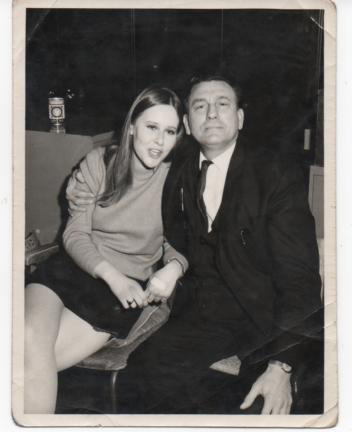 Tim Riley adds: Some splendid memories of Atlantic House in your recent pages. Am I right in thinking that The Castle pub in Philip's photo held a pawnbroking licence, with some fable about the Prince Regent looking in there and popping his watch to pay for a drink? The Victoria, opposite the B floor entrance of Atlantic House, was a ghastly dive. I recall from the one time I ventured in an aged crone (probably ten years younger and less cronelike than I am now) ordering a quadruple whisky in a miasma of cigarette smoke. Not that we were in a position to be snooty about cigarette smoke, as there was a kiosk in our Holborn Viaduct (D floor?) lobby, in aid of the RNIB – was it? – selling cigarettes. Par for the course, in those days. CRS's nefarious operations took me to the Palace of Westminster in the early 1970s, and in the bars and corridors there they had cigarette machines dispensing packs of 20 branded with the House of Commons's portcullis logo. A different world! (Just seen that the National Trust has stopped selling cigars at Chartwell – no doubt right and proper, but somehow it seems just a bit sad, too.)
For a while, circa 1975, I was in an office on the top floor of our building, with the top floor of the diamond merchants opposite across the very short space of the alleyway between the two, and one morning I was diverted to see over the road, in, I assume a company flat, a young woman leaning out of the window without having first thought to put some clothes on. This started my day rather jollily, and I waved in a particularly friendly way, but she looked me in horror and fled. I bet the occupants of the rebuilt Atlantic House don't have such diversions.
Now then, I seem to recall John Nash telling a story of being taken across Farringdon Street to a café for a ticking off by his boss – known to all as "Auntie" – there being no interview rooms to be had in Atlantic House, and being spotted by the divisional director, who was then duly torn to shreds by Auntie for suggesting she was improperly absenting herself from the building. I think we should be told. 
My word, Tim, you have given the memory pot a hefty stir. I had quite forgotten the Pawnbroker licence until you mentioned it. And The Victoria, where I used to go with a lunchtime group from Supplies Machinery. On the couple of occasions I went alone – before I found out how much better the Fleet Street/Blackfriars pubs were – I encountered similar professionals. And yes, it was an RNIB tobacconist in Atlantic House. People can't believe it these days. I had taken to the pipe by then – gave it up in 2010 – saw a man smoking a pipe in the street in Norwich yesterday. About as rare as a Conservative Election Poster around here. When I was in S4c we had a Christmas drinks event, and Bert Hulbert (three times my age) motioned to me to look out of the window to a similar event being held in the Diamond Merchant's. It was all a blur, so he said 'borrow these' and handed over his distance spectacles. Clear as a bell: Diamond man had a seemingly willing partner spread-eagled over a desk. Made me realise how specs could open so many doors: never looked back. I like the Nash tale. He is still in occasional contact. Will make 90 in a year's time. Enough past – not that I intend living in the present. Best wishes, RW.
Alan Pawsey adds: Some excellent photos from Philip which brought back memories. My recollection was that the tea trolley stopped at the bottom of the stairs meaning some of us on D floor had a very long walk. Regards, Alan.
Nodge Carnegie adds: The photo of Bobbie and John rattled a few memories. Not sure if it's one of mine but it fits very well with your tea-trolley comments (and the others). By the time of my joining GD, the Tea Club was firmly established as a studio institution (if that's not tautological!). The Hon. Sec. was David Challis. He collected the weekly subs from members (and invited me to join during my first week of gainful employment). He told me that the Tea Club Fund operated at a profit – Chancellors of the Exchequer could still learn from such acumen – and that the tangible assets included a prized copy of The Joys of Sex (or similarly-titled tome) and a subscription to a "personal relationships" magazine named Forum. Any links in subject-matter were probably coincidental – or so it seemed to my then-innocent mind.
The day came when David Challis wanted a break from Tea Club responsibility. Discussions took place, at various times, in the studio. One such went like this – though there might have been more comments and contributions:
Bobbie :  Who can take over the job if you stop, David?
David C :  David [Tudor] could do it. He'd be an ideal Hon. Sec. He's very well organised.
Ken :  True – but I wonder if he might have trouble collecting the subs. from the slow payers.
Bobbie :  He'd need to be like the "heavy" in the gangster films . . .
Ken :  Yes – and he doesn't carry a lot of weight to throw around!
David Tudor :  I might be small but I'm heavy-boned! [Laughter]
And it was all unscripted – and (to my ears) remains infinitely superior to what passes for comedy on the radio now!
Thanks also for the wonderful new set of photographs of Atlantic House and environs. Please keep them coming, if possible.
Best wishes, Nodge.
Annette Conn adds: Thank you for all the Atlantic House information. My first job was in Supply Division in Atlantic House in March 1967. My office in the Mill Paper section with Cyril Blake as HEO looked down on Harts. Never had better fresh sandwiches!  Working there I thought I had died and gone to heaven in 60's London.