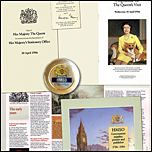 22 Jul

8 July 2022 – Philip Marriage's 'HMSO Goodies'

Hi Reg, Whilst rummaging through my loft recently I came across a box marked 'HMSO Goodies' and on opening found a host of ephemera, some of it going back sixty years. I've selected a few to show you below to maybe excite memories of special events and visits.

Philip

Hello Philip, Your well-presented collection certainly brings back memories. I am sure that many ex HMSO people have copies of three or more of those publications etc around the house, and others in similar vein. Perhaps readers might like to contribute their own reminiscences: there have been enough of mine since HMSOldies was launched on 15 July 2004.
Reg