18 Mar

16 March 2020 – From Brian Cockram

Reg, Here are a couple of pictures from two recent gatherings.

The annual HMSO Mill Paper lunch at the Racecourse Salhouse, February.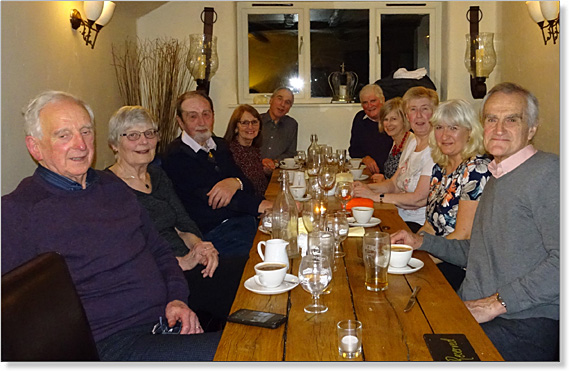 This second picture is from last Saturday at the Kings Head, Bawburgh. Rod and his sister Jenny joined Wendy Curtis, Sue Bull and Karen Ibisill. You know all the other rogues. An enjoyable evening.
Incidentally, Rod joined Barbara and I on a walk organised by a local Ramblers group. A surprisingly mud less stroll near Blickling Hall. Hopefully he will come to other walks: provided we are allowed out!
Brian
Hello Brian, Thank you for the fine photos – a rare ray of sunshine to HMSOldies. Good to see Messrs Sinden, Cockram, Linda Blake, Mickleburgh, Curtis and Dougall upholding the Paper Section tradition. Rod Durkin was understandably unable to make that one. I hope you toasted Cyril Blake.
All the best, and thank you for the uplift.
Reg