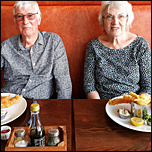 10 Aug

9 August 2020 – John Barker's nostalgic trip down Nine Elms Lane

Dear Reg, I hope that you and your family are well and managing to cope with Covid 19.

For some time now I have been thinking about paying a visit to where I used to work at our two buildings situated down Nine Elms Lane. One of course our head office at that time in London and the other Macaulay Press, where all our classified printing was produced. Early last week Angela and I set out to see what was happening there now.

We arrived at Vauxhall station and when we came out I couldn't recognise the area at all. It had changed so much. We started to walk down Nine Elms Lane and everywhere there were cranes and building sites under construction. When we reached where the HMSO building stood until a year or two ago, there appeared this magnificent building, the new American Embassy. To say the least it was rather more upmarket than where I once worked. There was what they called a pond in front of the building with a small waterfall cascading down into the water. If you haven't seen it, you can log on to the American Embassy website and all will be revealed. One of the reasons that it is there is because it is only a short distance from the House of Commons, as stated on the website. The previous one was in Mayfair and must have been worth millions.

I have many memories from working at Nine Elms. On one occasion I was invited by the MD of one of the companies that did printing for us if I would like to go to Robert Maxwell's Garden Party that was held at his "Council House" just outside Oxford. It was held on a Saturday so I decided to give it a try.

On arrival you were invited to see Maxwell himself who stood in the middle of the entrance, or walk round either side into the party. My Wife and I went round the outside. I wondered if we would know anyone there. After a while I didn't think that it was going to happen. Then to my surprise who should walk in but my Director at that time, and the last Controller of HMSO as we knew it, Mike Lynn and his Wife We spent a very nice afternoon together. It was very interesting seeing all the Maxwell family in attendance although we kept our distance. Some of them still keep appearing in the national papers today.

On the Monday morning after I told my then boss at Nine Elms, Dave Poole, we had a good laugh together. You never know who you might bump into do you? Life can be full of surprises.

I tried to find out where Macaulay Press once stood, but sadly couldn't find it. There was so much building going on that side of the road. I suspect that it had been demolished. I spent two years there as Deputy Works Manager under Ron Gair. We produced two Budgets for the Chancellor Nigel Lawson, during my stay. The last one was nearly a disaster. Everything was going along smoothly through the night. We were ahead of printing, and Ron told me that he was going up to have a rest for a couple of hours. He had a bed up in his office and if there was a problem let him know.

We were about to start folding the sheets when one of the folding machines broke down. We had what we were told by our Security Officer, an engineer on standby if there were any problems. Unfortunately he couldn't be contacted. He wasn't answering his phone. I thought that we could probably just about make it with one folding machine going well. Then the worst happened. The other machine broke down as well. We still couldn't contact the engineer. Not a very happy situation. If we were desperate I had to find somewhere where we could complete the job. Bearing in mind that we had been told by the Controller that this was the most important job that HMSO produced each year.

I contacted St Stephen's Parly Press who were of course working nights producing Hansard and other Parliamentary items. "Could we come down with a team to finish the job on your folding machines and other equipment if necessary" I asked? I could imagine the problems with the unions there if I had to resort to this. Especially as we were producing a Secret job. They agreed to try and help if necessary.

Then our luck changed. The engineer turned up and started to work on the machines. Then Ron got up and saw the engineers van outside the Press. It was panic for a few minutes, and I was worried about his blood pressure. However, in the end we made it and the Chancellor and Parliament had their copies on time.

Sadly all our presses and HMSO itself has disappeared but our memories live on. Just down the road from the American Embassy there is another huge development where Battersea Power Station once stood. All that remains now are the tall chimneys. Angela and I were especially interested in this development because our eldest granddaughter's boyfriend has an apartment there. We couldn't find it though. There was too much redevelopment going on in the area so we went into a local pub called the 'Nine Elms Tavern' and had a nice lunch there. The waiter asked if he could take a picture of us for the pub's Facebook page. We agreed. I think that they were trying to say that old people are still venturing out for lunch. It was shown on Instagram apparently. One of our grandchildren found it for us. Here's the happy couple.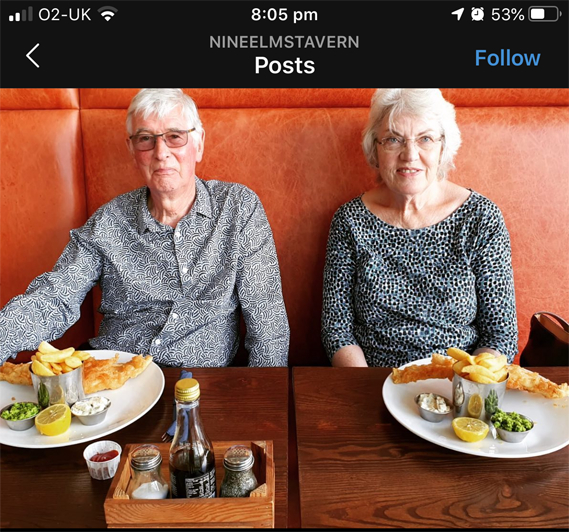 We then got a bus back to Victoria and went home. A day full of memories of what used to happen in better times.
Regards, John
Hello John, What a great reminiscence! So many memories, as you say. I was part of the 'Publications Distribution Project Team' in the planning stages for the MDC, as it was known then. John Balls was Leader, and Gavin Turner, Leon de Brunner, Chris Joyce and several more were involved. The photo below shows Gavin on site, with E Sidney Brooks, who preceded John Balls, Leon and Bob Courtney (Warehouse Manager).
And excellent to see you both taking advantage of the return to pub lunches.
The names you mention, and a reflection of the times that now we realise were generally, and comparatively, good certainly gives us something to think about during these uncertain days.
All the very best to you and to Angela: we'll meet again, I am sure.
Reg
John Barker replies: Looking at that picture of some of our ex colleagues with the Power Station behind them. It looks very different now. As I stated the only thing remaining of the Power Station are the chimneys, and I think that they had to be rebuilt. I had hoped to come up to Norwich this year but because of the Covid 19 situation I may have to put it off until next year. We had to put off our reunion of colleagues who worked at St Stephens Parliamentary Press, but hopefully we can resume them next year. I expect you are in the same situation in Norwich. Let us hope that things continue to get better and we can meet again at the 'Wig and Pen' before too long.
Thank you John. Pity that the SSPP lunch has had to be postponed. As you suggest, the same applies to the Old Boys' lunch in Norwich, and the informal HMSOldies lunchtimes. One advantage of getting older is that time passes more quickly, so we will doubtless be meeting again before we know it! Best wishes, Reg