01 Jun

David Edwin 'Ed' Crickmore 1944-2020 & Carole Eileen Crickmore 1944-2020

Ed Crickmore

Sue Prutton passed on the following sad news, which she had received from Ed's wife Carole, on 20 May 2020:

'Ed died this afternoon. Very peacefully, the nurses were getting him ready to come home tomorrow and he just went. No fuss, no pain, he just stopped. It was so quick we didn't make it, but he wasn't alone.'

He had been experiencing serious heart problems for some years.

Ed joined HMSO Norwich in 1970 and worked in the IT area. I first met him during the mid-1970s when we worked in Management Services (he and John Halford to John Rowe, and Alan Cole and I to Frank Payne). In those simpler times, the social highlight of the week was the lunchtime darts match at the James the First pub.

Following a period as SEO in HMSO Chadderton, Ed moved back to Norwich with Carole and their children, Paul, Neil and Helen, joining a Trading Fund Project managed by Sam Rae, then going on to work in the Information Technology area until Privatisation.

Brian Puplett adds: Hi Reg, thank you for letting us know, I will pass this sad news on to us golfers. I liked Ed, he was always thoughtful, he would listen and then provide good advice. More than anything though he had a lovely sense of humour, he would be the first to say that he wasn't a natural golfer but he thoroughly enjoyed it as we did his company.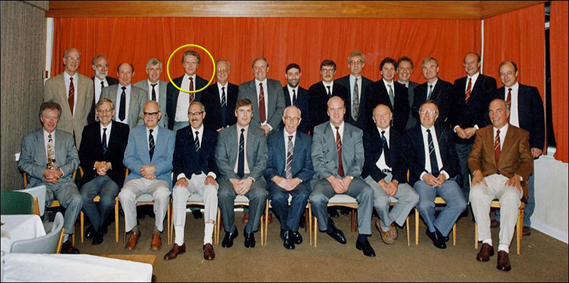 Doug Kerry adds: Hi Reg, I knew Ed from my earliest days in CCB. He was a couple of weeks ahead of me in training and was a far better source of advice than the person nominated as my training officer who I subsequently discovered became training officer because he could not write programs! He became widely known for an obscure error code which seemed to afflict him more than most, we knew it as Crickmore's condition (we all had our own problems with the machines). When CCB moved from HMSO to CCTA Ed remained with HMSO in domestic systems. This was a time of many admin nonsenses since all the computing staff were in the same office and CCTA had different rules on (for example) signing in. Poor Emily Beech was tasked with sorting this and resorted to the time-honoured approach 'you will do what I tell you – or else'. Unfortunately, since we no longer worked for HMSO there was no 'else' so we all ignored her. When returning to HMSO in 1983 I again worked with Ed and continued to do so until the great privatisation. He was always a good and friendly colleague and could be trusted and relied upon. Ed and Carole lived opposite my parents in Taverham and especially after my father's death were good and helpful neighbours.
* * *
Carole Crickmore
On 27 May 2020 Sue Prutton passed on the tragic news that Carole died of a Stroke following admission to NNUH on 26 May 2020, six days after the death of her husband Ed.
Carole joined HMSO from MOD in April 1986 and worked in the Information Services area.
There will be a joint funeral, which will probably be held at St. Edmund's Church, Taverham, on 10 June 2020. Details to follow.